The true definition of 'custom' products is – made to fill a specific customer order. Many of the callmakers in this category do indeed build game calls for specific individuals. For our catalog sales these craftsmen have agreed to build specific qualities for Midwest Turkey Call Supply to offer to our customers.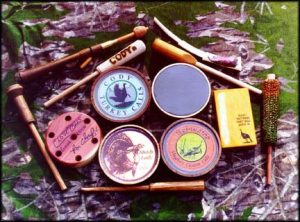 These custom turkey calls that we offer have several common characteristics. They are built often by individuals, sometimes by small shops employing family members and other specifically skilled employees.
Their products are unique, available on a limited basis, which makes them collectable by nature, especially in the case of 'Limited Editions'.
Many of these calls are constructed from a variety of wood types. They feature unique acoustical sound chambers, and when combined with the different wood types, a callmaker-specific tone results.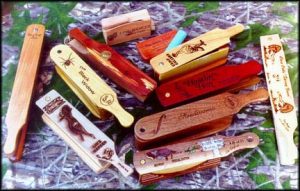 The following listing includes some of the custom call manufacturers whose products are featured in Midwest Turkey Call Supply:
C&S Calls, Camp Callers, Cane Creek Calls, Cedar Hill Game Calls, Ron Clough's Close Calls, Cody Turkey Calls, Crow Slayer, Dry Dog Ridge Wingbones, Eight-Hooter Wildlife Calls, Tom Gaskin, Gibson Crow Calls, Kenny Morgan's Turkey Calls, Moss Double Tone, Rohm Bros., Super Yelper, Billy White's White Hunter Turkey Calls.