Imagine this scenario. You and a friend begin the day together on a spring hunt for morel mushrooms. The weather is warm and the forest understory has begun to leaf out. Foraging intently through the forest floor litter, you separate, lose track of one another, and then attempt to regroup through voice contact. You head toward the other voice and suddenly see your partner in a forest clearing 50 yards away. She is picking mushrooms and you head directly toward her.
Visual contact has reinforced an audio message. So it is in using decoys while turkey hunting. The hunter's calling will often bring the gobbler a certain distance and the bird will hesitate or 'hang up', expecting to see the other turkey. Decoys will bring a gobbler closer. He now has visual and audio confidence in the reality of the social encounter.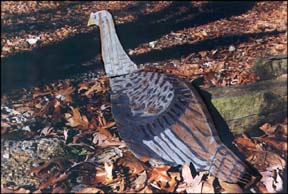 Just several years ago turkey decoys were hard bodied and cumbersome to carry. Silhouette decoys like the home made wooden one pictured, improved the situation, but hunters preferred a more three dimensional decoy. When the collapsible full body decoy was developed, using decoys suddenly became convenient and today many hunters carry and use them.
Midwest Turkey Call Supply stocks decoys of several manufacturers, and also a variety of replacement stakes. Our decoys by FeatherFlex are constructed of lightweight and durable crosslinked foam. FeatherFlex decoys have been redesigned this year for a super authentic appearance.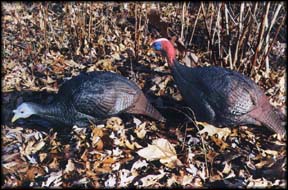 Also new this year is their True Position Breeder Set (a half-strut gobbler, a hen and a unique stake connection), bringing their selection up to seven different decoy models. Decoys by Flambeau are also constructed of foam, enabling easy, lightweight transportation.
Our decoys by CarryLite are collapsible but constructed of a more rigid rubber/plastic blend. These decoys are slightly larger and have detailed feather molding. three models include, standing hen, feeding position hen and jake.
Midwest stocks collapsible decoys by FeatherFlex, Delta, Carry-Lite, Flambeau and inflatable decoys by Sceery and M.L. Lynch